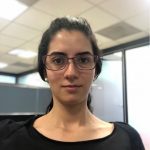 Daniela Cabeza de Vaca grew up in Central Mexico, in the state of Guanajuato, in a family of lawyers who, not surprisingly, kept up a lively running conversation about law and politics.
Now a law student at Universidad Panamericana (UP) in Mexico City and part way to her lifelong goal of becoming a lawyer, Daniela elected to spend a week in New York City learning about US tax law in the Essentials of International Tax for Mexican Lawyers program jointly sponsored by the Institute for Executive Education at NYU School of Law and UP. "Tax is one of the most important and difficult subjects in law," Daniela explains. "You need to be up-to-date because it is in a constant state of change. I also thought it would be a great opportunity to spend a week learning at one of the most important universities in the US."
Tax law is particularly relevant to Daniela's current position in Mexico's Ministry of Finance, where she has worked since 2014. "Sometimes we need to review important facts about tax and compare them with tax systems in other countries. The NYU program really helped me to understand the US tax system, because it is so different from the one we have in Mexico.
"As a lawyer, I would like to help to improve the development and growth of my country, implementing new measures to combat corruption and improve public policies. The best way to fight corruption is by implementing measures to encourage transparency and accountability in the public sector, just as in the private sector. Now in Mexico we are trying to implement measures to encourage transparency in all sectors, but it is very difficult.  People sometimes disagree."
The NYU Law-UP program was enriching not just for her career prospects, Daniela recalls. "After class the first day, we went to have dinner with the teachers. I think that was a wonderful idea, because, as students, we had the chance to share some points of view with the teachers. That way, we could know how to take best advantage of the program and also how to enjoy the rest of the week in New York."