Essentials of Business Law: US Corporate Law and Governance for the Global Practitioner
Experienced global practitioners need to be familiar with an evolving universe of legal rules and regulations, judicial precedent, and business practices. Understanding key aspects of the US legislative, political, and judicial environment is critical, especially during mergers and other corporate transactions with US firms.
This program is designed to introduce the basic concepts that drive corporate transactions in the US. Through classroom lectures and a series of guest speakers the program will provide an in depth review of the fundamental principles of corporate law and governance, merger and acquisition law and practice, corporate liability and compliance, and key sources of liability for officers and directors. There will be special emphasis on US laws that affect enterprises which either have completed or are contemplating mergers or acquisitions involving US entities. Instruction for this program will include interactive discussions and hands-on analyses of recent transactions and enforcement proceedings.
The course will be taught by full-time NYU Law School faculty as well as leading US practitioners.
Course Details
Sample Topics
Each program can be customized for content, format, and delivery. Below are a few indicative topics that could be included in the schedule:
Introduction to US Corporate Law and Governance
Mergers and Acquisitions
Corporate and Individual Liability Issues
Securities Regulation
Public Offerings
Shelf Registration Offerings
Exempt Offerings
The Foreign Corrupt Practices Act
Featured Centers and Institutes
The NYU Law community boasts an extensive network of Centers and Institutes that provide insight and depth into the scholarship of this program. Examples include:
Faculty

Stephen Choi
Stephen Choi joined the NYU School of Law faculty in 2005. From 1998 to 2005, Choi taught at the University of California, Berkeley, School of Law, where he was the Roger J. Traynor Professor of Law. Prior to that, he taught as an assistant professor at the University of Chicago Law School from 1996 to 1998. He graduated first in his class from Harvard Law School in 1994—where he served as a legal methods instructor and supervising editor of the Harvard Law Review—and received his PhD in economics from Harvard in 1997. Choi has been a recipient of the Fay Diploma, the Sears Prize, and the Irving Oberman Memorial Award. He has also held John M. Olin, Jacob K. Javits, and Fulbright fellowships. After his graduation from law school, Choi worked as an associate at McKinsey & Company in New York. His research interests focus on the theoretical and empirical analysis of corporations and capital markets. He has published in the Yale Law Journal, Stanford Law Review, University of Chicago Law Review, Michigan Law Review, Southern California Law Review, Duke Law Journal, University of Pennsylvania Law Review, and Virginia Law Review, among others, and has presented papers at numerous conferences and symposia.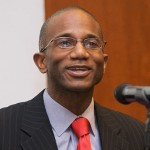 Kevin Davis
Kevin Davis teaches courses on contracts, regulation of foreign corrupt practices, secured transactions, and law and development, as well as seminars on financing development and contract theory. His current research is focused on contract law, anticorruption law, and the general relationship between law and economic development. Davis received his BA in economics from McGill University in 1990. After graduating with an LLB from the University of Toronto in 1993, he served as law clerk to Justice John Sopinka of the Supreme Court of Canada and later as an associate in the Toronto office of Torys, a Canadian law firm. After receiving an LLM from Columbia University in 1996, he was appointed an assistant professor at the University of Toronto and in 2001 was promoted to associate professor. Davis has also been a visiting assistant professor at the University of Southern California, a visiting fellow at Cambridge University's Clare Hall, and a visiting lecturer at the University of the West Indies in Barbados.