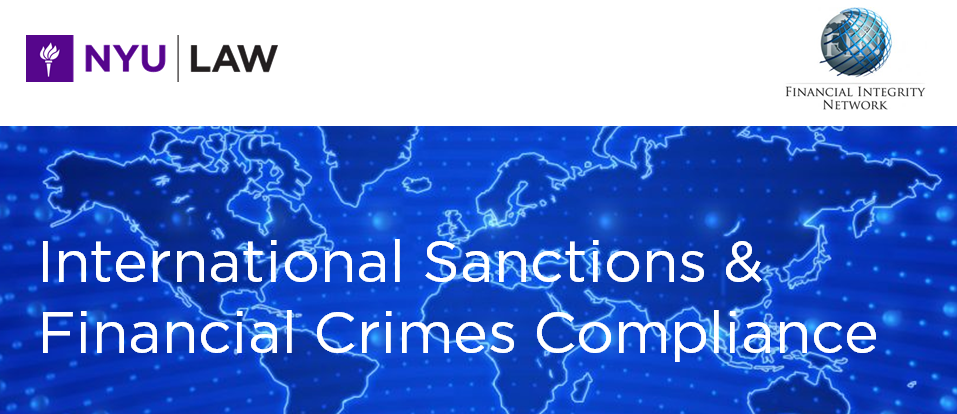 NYU Law and FIN team up to teach executives about financial crimes compliance
The Institute for Executive Education (IEE) at the NYU School of Law and the Financial Integrity Network (FIN) are jointly offering a premium bespoke executive education course focused on United States and global sanctions and financial crimes compliance (FCC) regulations, policies, and market expectations. The International Sanctions & Financial Crimes Compliance Program will be customized for specific audiences, and will provide senior executives and FCC professionals with valuable knowledge, skills, and judgment to comprehend and effectively manage evolving sanctions and related risks within global enterprises. Course attendees will receive a certificate upon completion.
The course will be conducted at NYU Law and other global NYU locations by experts from both NYU Law and FIN: NYU Law Professors Jennifer H. Arlen, Geoffrey P. Miller, and Zachary K. Goldman, and from FIN, Co-founder and Chairman the Honorable Juan Zarate, Co-founder and President Chip Poncy, and others experts from the FIN team.
"We are excited to present this first-of-its-kind course in conjunction with the scholars and practitioners at NYU Law," said Zarate, who served as Deputy National Security Advisor for Combating Terrorism and the first-ever Assistant Secretary of the U.S. Treasury Department for Terrorist Financing and Financial Crimes. "Global corporations and institutions are increasingly faced with complex and expanding expectations to manage compliance risks surrounding financial crimes. Their ability to grow into new markets and product areas depends on their ability to manage those risks."
Said Goldman, the Executive Director of NYU's Center on Law & Security: "We have put together a team of deeply experienced practitioners and scholars to ensure that participants come away with sophisticated risk management skills for global financial institutions and other corporations."
For more information about the NYU Law – FIN International Sanctions & Financial Crimes Compliance Program, please visit the Program website. To inquire about creating course options for your organization, please contact iee@law.nyu.edu.